Keeping Cincinnati Low-Waste, one event at a time
Low-Impact Events
We are proud of our commitment to zero waste in our office and at our events. In collaboration with GoZERO Services, we are able to offer assistance to to make your next event zero waste. We will provide the supplies and services necessary to support organic waste diversion for a suggested donation of $50 or $75 (depending on event size).
---
Your Event Will Receive
Collection bins for compostable waste (up to 6) with bags

Two t-shirts

Informational sandwich boards

Disposal services for collected compostable waste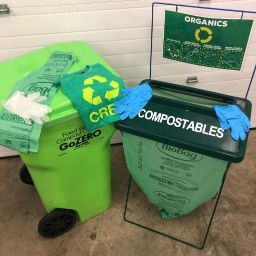 One Ton One Year
---
We host 10 major events annually with over 200-500 attendees that would traditionally generate thousands of pounds of organic waste each year. We challenged ourselves to make all of our events zero waste and collect One Ton of organic waste in One Year.  Not only did we collect tons of organic waste but our events became an opportunity to educate attendees on methods and resources to reduce their personal landfill footprint. You too can make your event zero waste, by planning ahead to reduce solid waste from the event, reusing various elements (such as banners), and setting up waste stations for recyclable and compostable materials.
---