Currently, there are no scheduled One Stop Drop Events. Check back for updates!
---
Until the next One Stop Drop Event, please visit our friends at Cincinnati Recycling and Reuse Hub to properly dispose of your hard-to-recycle items! They're a great resource, and we're proud to have them in Cincinnati!
Big thanks to the organizations that make the One Stop Drop possible: Cincinnati Recycles, Cincinnati Public Schools, Pleasant Ridge Montessori School, Cohen Recycling, Rhinegeist, Kroger, Eco-Development, and City Of Cincinnati Government Office of Environment and Sustainability.
---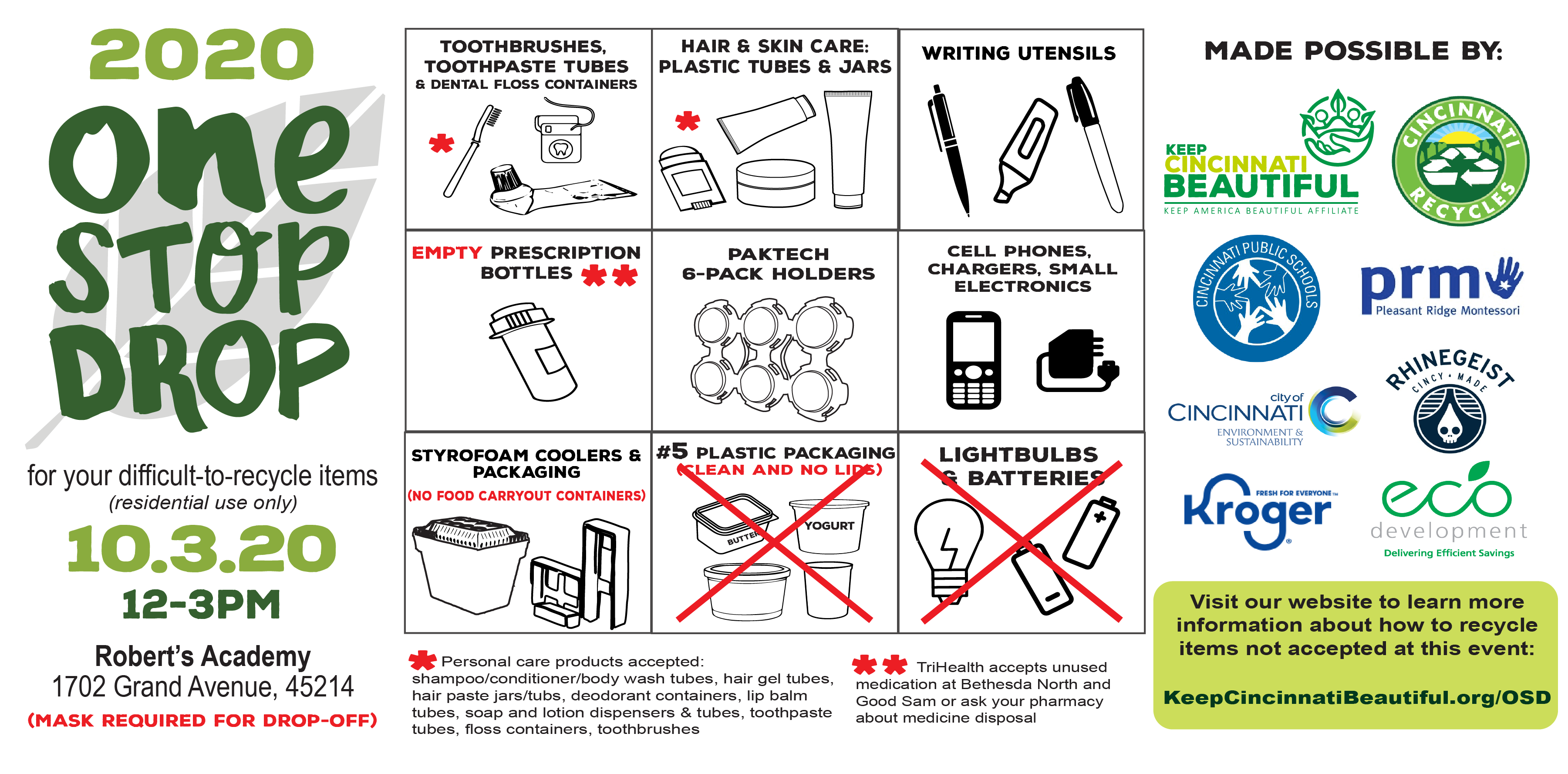 ---
For the most comprehensive list of where and how to recycle many materials visit
Hamilton County Recycling & Solid Waste District's materials search database. 
# 5 Polypropeylene Plastics Due to the low grade and variability of quality within polypropylene and that most post consumer plastics are contaminated, many recyclers prefer not to work with this material and is why Rumpke does not accept it. KCB is actively searching for an outlet for #5's as there is a demand in Cincinnati but to date has not found one. 
Gimme 5 program through Preserve Plastics accepts mail-ins of clean, dry #5 plastics (the same company formerly accepting all #5s at Whole Foods). To learn how to participate and mail in your own #5's for recycling visit their site here.
---
Lightbulbs, Batteries  There are several local outlets accepting lightbulbs, batteries for recycling. 
Cohen Recycling with locations across Cincinnati and Northern Kentucky, accepts all types of batteries and lightbulbs for recycling for a small fee. 
Batteries Plus Bulbs has several locations in Greater Cincinnati that will accept your recycling for a nominal fee. 
---
EPS Styrofoam Packaging
Eco-Development accepts non-food styrofoam products including protective packaging, coolers, and peanuts, for free by appointment only. Call their Drop Off Hot-line 1-866-362-6326  (EPS/Styrofoam Drop-Off Center 4219 US State Route 42, Mason, OH 45040)
---
Electronics
CleanLites has two locations in Cincinnati and Mason available to accept all types of electronics, including large appliances, miscellaneous cords, for a  a small fee
Cohen Recycling with locations across Cincinnati and Northern Kentucky, accepts all types of electronics for recycling including larger items that are never accepted at our events for a small fee. 
---